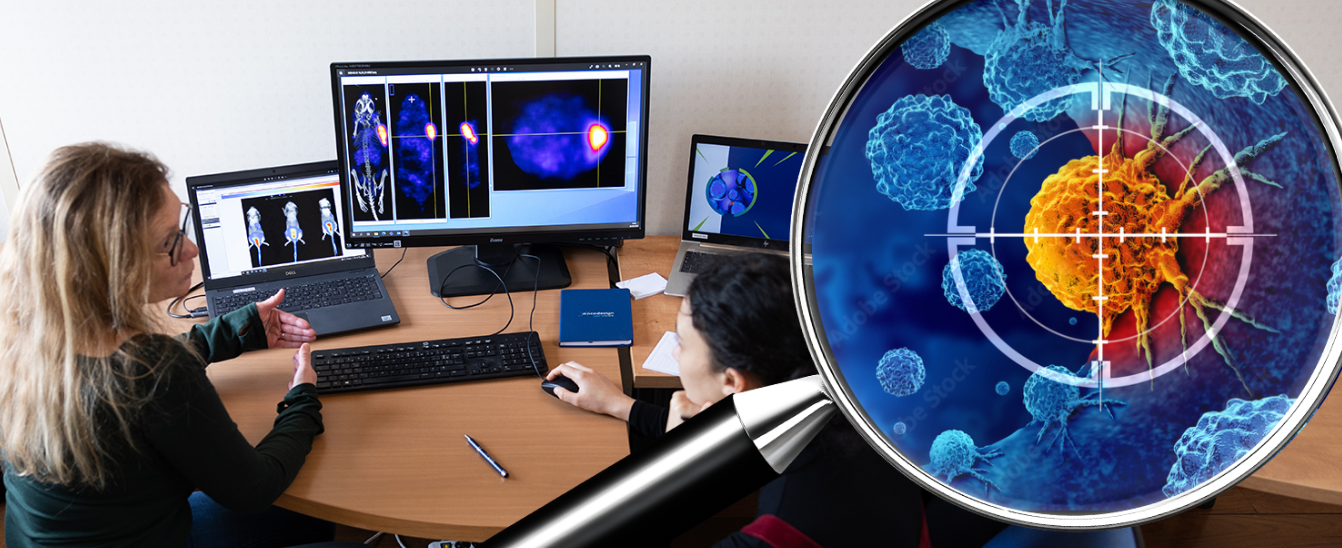 Oncodesign Services announce access to ImaginAb's CD8 ImmunoPETTM technology
PRESS RELEASE – 27/06/2023
Los Angeles, California, USA & Dijon, France, June 27th, 2023 – Oncodesign Services, a leading Contract Research Organization (CRO) specialized in drug discovery and preclinical services in oncology and immuno-inflammation, announces the execution of a Preclinical License and Supply Agreement with ImaginAb Inc. for the use of their investigational CD8 ImmunoPETTM (89Zr crefmirlimab berdoxam) technology. ImaginAb, a biotechnology company, developed CD8 ImmunoPETTM, a 89Zr PET imaging agent to enable the whole body visualization of the immune system, particularly in patients undergoing immunotherapy or radiopharmaceutical therapies.
By using this cutting-edge imaging technology in preclinical studies, Oncodesign Services' team hopes to gain insights of the predictive effectiveness of novel treatment approaches in immunotherapy and radioimmunotherapy, particularly in the context of cancer.
Fabrice Viviani, President & Chief Executive Officer of Oncodesign Services, said: "We are pleased to integrate this groundbreaking technology in our portfolio. The CD8 ImmunoPETTM offering will enhance our services and bridge the gap between preclinical and clinical stages. We hope to be able to better track the efficacy of novel immunotherapies and propose a dynamic follow-up of immune T CD8 cells into our preclinical models. Ultimately, it will enable us to improve our knowledge in the era of personalized medicine."
Ian Wilson, Chief Executive Officer of ImaginAb, commented: "We believe this partnership will benefit pharma and biotech companies, allowing them to utilize our investigational imaging agent with the aim to improve understanding of the potential efficacy of their pipeline therapeutic products in preclinical studies."
About Imaginab
A clinical stage, revenue-generating global biotechnology company developing next generation imaging agents and radiopharmaceutical therapy products through its proprietary minibody and cys-diabody platforms. The lead candidate, CD8 ImmunoPET™, is currently in Phase II clinical trials and has been licensed by pharmaceutical and biotech companies for use in immunotherapy clinical trials.
For more information, visit www.imaginab.com
About CD8 ImmunoPET™ (89Zr crefmirlimab berdoxam)
An 89Zr-labeled minibody that has been designed to bind to the CD8 receptor on human T cells for quantitative, non-invasive PET imaging. This method is currently being researched to determine whether it may be used to diagnose the immune status of a patient, to measure the efficacy of immunotherapies, and to predict patient outcomes
More information on the website www.imaginab.com
About ONCODESIGN SERVICES
Oncodesign Services is a leading CRO specialized in drug discovery and preclinical services in oncology and immuno-inflammation. The company has world-renowned expertise in the design, optimization and preclinical evaluation of proof of concept of new experimental therapies served by a broad scope of expertise in Medicinal Chemistry, in vitro and in vivo pharmacology, Pharmaco-imaging, Molecular Radiotherapy (MRT), pharmacokinetics and bioanalysis from target identification to IND submission. Oncodesign Services has over 225 employees in France, Canada and the United States.
More information on the website www.oncodesign-services.com