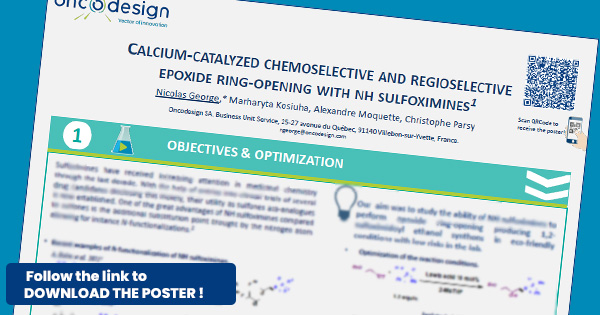 Lewis acid catalyzed chemoselective and regioselective epoxide ring opening with sulfoximines
Authors
Nicolas George, Marharyta Kosiuha, Alexandre Moquette, Christophe Parsy
Abstract
The enhanced electrophilicity epoxydes in acidic media have been extensively used in ring opening reactions with a wide variety of nucleophilic partners. In addition to an easy sourcing, this reactivity made them common useful synthons in organic synthesis.
Sulfoximines have gained attention for the last decade in organic synthesis. This resulted to easier conditions to be synthesized, a better understanding of their reactivity and so their utilization in drug discovery programs. Few clinical candidates display a sulfoximines moiety. Several N-functionalizations from N-H sulfoximines were reported to date, among them arylation, alkylation, alkenylation, alkynylation, acylation, sulfonylation, sulfenylation and trifluoromethylation.
Here we report the first regioselective epoxide ring opening with sulfoximines.
See opposite to download the poster NOW!