Bioconjugation & Radiochemistry platform
Do you have a process to bioconjugate and radiolabel your compound?
The key objective is to define the best strategy of bioconjugation, selection of linker (PEG, BSA binder…), and radiolabeling in order to select an optimal bioconjugated compound (and possibly 2-3 back-up compounds) with improved binding demonstrating a robust selectivity and in vivo biodistribution.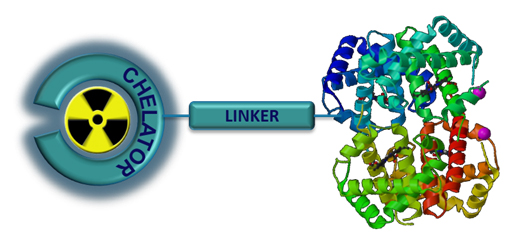 When linked with a chelating agent, does the compound have the same affinity, target engagement, in vivo biodistribution?
Chelators are sourced from our partner CheMatech, and with the support of expert chemists at Institut de Chimie Moléculaire de l'Université de Bourgogne (ICMUB), Oncodesign Services performs a wide range of random or site-specific bioconjugation on all kind of compounds (antibodies, nanobodies, peptides, small molecules, nanoparticles).
Imaging (γ, β+) and therapeutic (β-, α) radioisotopes are available with on-site production (18F, 68Ga) or through commercial and academic sources.
Oncodesign Services uses mass spectrometry to evaluate the degree of ligation, in vitro binding assays to confirm target engagement, and conduct radiolabeling quality control (ITLC, radio-HPLC) before in vivo work on our pharmaco-imaging platform.
This bioconjugation and radiochemistry expertise is the starting point of our integrated services in molecular radiotherapy, DRIVE-MRT.