Drug Discovery Services
Supplying Integrated Drug Discovery services to support your R&D programs
The challenges of modern drug discovery rely on increasing throughput, minimizing timelines from bench to bedside while having a differential proposition of treatment for patient and therefore innovative science. Oncodesign Services offers a full spectrum of drug discovery services for small molecule (New Chemical Entities, NCEs), theranostics and new biological entities, either as stand-alone (SOLO) projects or as part of integrated discovery (DRIVE) and development (INPACT) programs.
Our multi-disciplinary teams aim to deliver fast cycle times, with tight communication and determination to deliver success in yur drug discovery project. We work at premier pharmaceuticals standards delivering results and processes that can be scaled-up for preclinical candidate selection and beyond. Oncodesign Services leads a consortium of partners called the DRIVE-IDDS (DRug Integrative discoVEry- Integrated Drug Discovery Service) network to bring a complete hit-finding, hit-to-lead, lead optimization to IND solution, for those needing utmost speed in their R&D programs for  small molecule, theranostics and biologics.
Working with Oncodesign Services for your drug discovery project :
Access to broad range of discovery capabilities

Access to the latest innovative technologies

A package deal without micromanagement burden

Fast cycle times

Creative business model structure

Minimal shipment burden
Integration of DMPK and Bioanalysis to the Discovery Cycle
To ensure maximum speed in the Design-Make-Test-Analyze (DMTA) cycle for small molecules, Oncodesign Services incorporates in vitro ADME assays and in vivo DMPK studies within the process cycle. We offer standard pharmacokinetics studies in mice, rats and NHP. Read more about the DMPK platform and its step-wise application to the discovery cycle.
Oncodesign Services is well-equipped to offer biodistribution studies, with a multi-modal imaging platform. Biodistribution are offered with radiolabeled compound or with compound tagged with an optical agent like luciferase. The bioanalytical platforms are also under the same roof, with 15-20 years of expertise . Bioanalytical services are offered at Discovery-grade, Good Laboratory Practice GLP and Good Clinical Laboratory Practice GcLP. We craft bioanalysis strategies to match your needs in terms of speed, sensitivity and throughput.
Read more details about our bioanalytical platforms to serve small molecules, biologics and oligonucleotide therapies, here.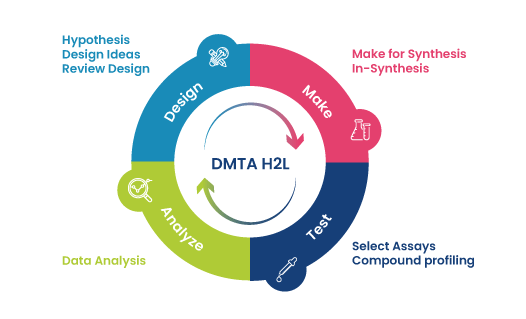 From in vitro  to in vivo  proof of concept in Drug Discovery
In vitro biology is used for secondary screening of activity, using cell-imaging or flow/FACS approaches. Such assays are routinely part of the late discovery process, and supply vital Proof of Concept (PoC) about target engagement. Tumor cells, PBMCs and other human cell sources are commonly used.
In vivo pharmacology is one of Oncodesign Services' core strengths. We offer preclinical pharmacology services from all three of our locations. Browse our models and services offerings in preclinical oncology, inflammation and infectious diseases. Well-coordinated teams keep your program moving quickly from discovery to preclinical.
De-risking packages include standard non-GLP exploratory tox in mice and rats, immunogenicity (for biologics) and the study of effects on the human microbiome.
Browse our drug discovery services
A request for a drug discovery project ? Contact us !