In vitro biology
In vitro biology : cell-assay capabilities and experience across multiple cell types
Oncodesign Services offers both off-the-shell assays using commercial kits and in-house developed assays with customized reagent panels. We can offer medium to high throughput screening using biochemical assays on isolated targets but also using immune cell assays, tumor cells, tumor immune cell co-cultures, viral assays and ex vivo assays. Our in vitro department can customize the specific cellular assays to support your programs.
Commonly used platforms at in vitro department are:
High content imager
Electrochemiluminescence
Envision reader
Cell assays can address tumor cell function, immune cell function or interaction of both cell types in a 2D or 3D format using a large variety of readouts. Tumor material can be sourced from cell lines or primary material of newly engineered models from various species (rodent, primate, human…). Immune cells can be sourced from healthy human donors, diseased donors or from our animal models.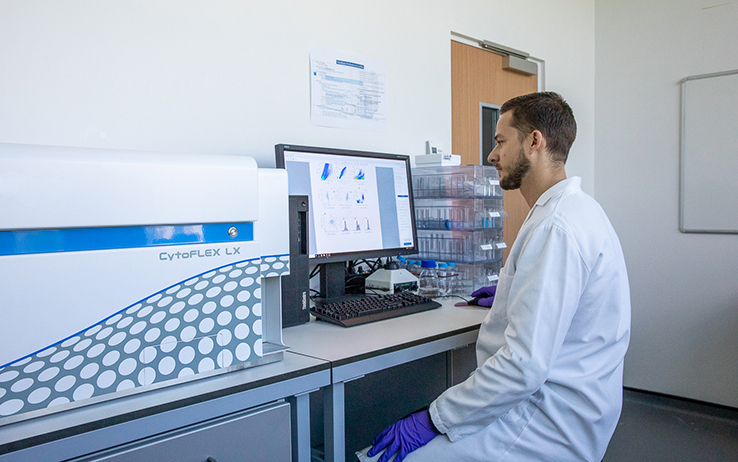 Cell-based assays platform at Oncodesign Services
We operate multi-disciplinary teams with over 30% of PhDs in laboratories based in Dijon, and Paris (France). Equipped with state-of-the-art equipment, we can do:
BSL2 and BSL3 for pathogen handling
Authorized for GMO use
Authorized for human tissue derivatives use
Registered biological resource center
Radionuclide lab for in vitro assays
In vitro assays can be set-up to characterize complex phenotypes. Multiple end-points can be assessed within the same sample. More complex, lower throughput, more physiological plate-based assays can be conducted, generally in cells relevant to the target mechanism of disease.
In combination with our medicinal chemists,  in vivo pharmacologists and DMPK scientists, our integrated teams can accelerate your research program by an understanding and determination of the mechanism of action.