Inflammation
Proof of concept in preclinical pharmacology for inflammation diseases
Oncodesign Services has a big collection of preclinical inflammatory and autoimmune models, covering diseases of the skin, gut, lungs, kidneys, liver and more. We offer studies as individual (SOLO) or as part of integrated packages (INPACT) covering discovery and preclinical development. Because of the shared mechanism of action of many inflammatory indications, bundling  lead optimization with cell-based screening and in vivo pharmacology delivers fast cycle times and enable quick switching between indications of relevance.
Identification and setup of new experimental models of interest meeting specific requirements is highly needed for the development of drugs in inflammatory disease areas . It is critical to customize new models according to specific targets and drug of interest. Oncodesign Services is happy to provide new inflammation model development support for these kinds of specific requests.
Typical readouts for inflammatory and autoimmune mouse models include:
Clinical monitoring and scoring
Lung mechanical assessments (FlexiVent system – SCIREQ)
Clinical biochemistry
Organ histology
Multiplex cytokine profiling
Immune cell phenotyping (FACS)
T cell responses (ELISPOT, proliferation, FACS)
In vivo pharmaco-imaging
Gene 

biomarker expression monitoring
A typical study design in inflammation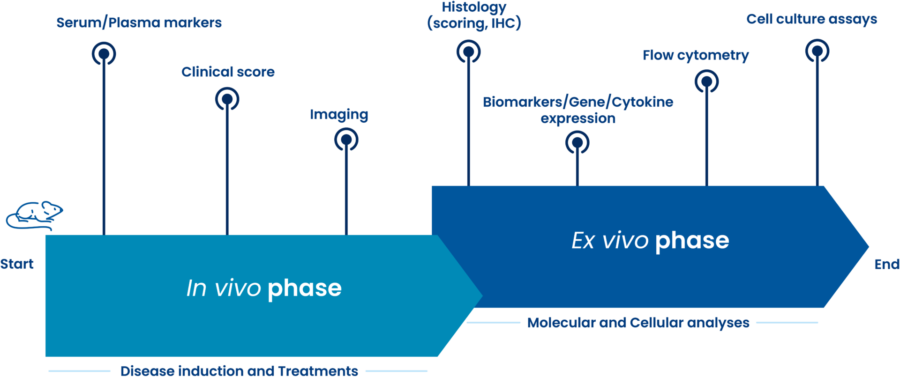 In Vitro Assays & biomarker analytics for inflammation studies
Immortalized human cell lines and fresh human samples are available for in vitro study of an inflammatory Mode of Action (MOA). Examples include fresh human skin, PBMCs, hepatocytes, immortalized HPASMC (Human Pulmonary Arterial Smooth Muscle Cells).
Read more about the in vitro platform.
Inflammation models typical require cytokine response & immune cell analysis (systemic and in situ). We use all commercially available flow cytometry reagents as well as cytokine kits and panels, and we can customize the panels depending on your specific requirements.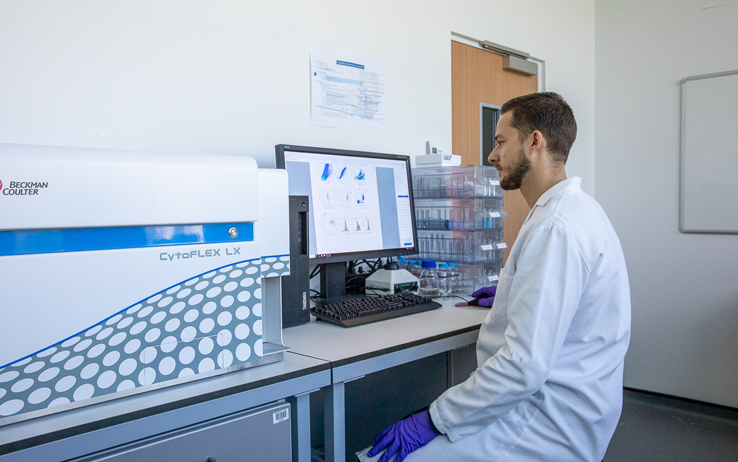 Fibrosis
Fibrosis is a common sequellae of many repair mechanisms resulting from inflammatory cascades. Fibrosis is a serious concern as it leads to organ function defects. Oncodesign Services offers several fibrosis models in the lung (bleomycin), skin (bleomycin, TopoI) and liver (CCl4, NASH) therapeutic areas.
Learn more about our fibrosis models
Humanization
Oncodesign Services can offer human xenografts on mice for humanized inflammatory models, including colitis models and GvHD models. Inflammatory mouse models with human immune systems have been proposed in literature to study development, maintenance and function of human hematopoietic cells. Please ask us whether a humanized version of your favorite inflammatory model is right for your preclinical program:
GVHD xenogeneic mouse model
NOG mice are transplanted IP with human PBMCs
The analysis of human T cell population performed by flow cytometry is used for longitudinal monitoring of human (hCD45+) leucocyte frequency in blood. Human immune infiltrates are also observed in tissues such as gastro-intestinal tract.
Do you have a request for an inflammation project ? Contact-us!