Pharmaco-Imaging
Pharmaco-imaging, a non-invasive approach to support proof of concept in pharmacology
Imaging is a non-invasive tool for pharmacology enabling to significantly reduce the number of animals and to efficiently monitor: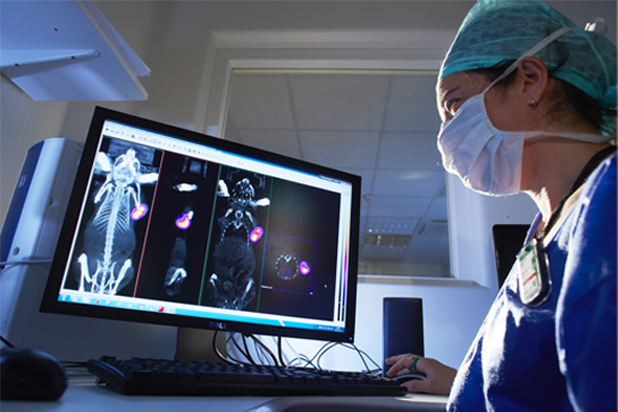 Oncodesign Services has added pharmaco-imaging to its pharmacology platform in 2004, integrating along the years imaging multimodalities:
MRI 4.7T
Nuclear imaging (PET/CT, SPECT/CT, PET/MR)
Optical imaging (Bioluminescence, Fluorescence)
Ultrasound
Oncodesign Services' in vivo multi-modal imaging platform can be used for biodistribution studies, tumor tracking and to detect biomarkers of activity. Pharmaco-imaging studies often utilize radioisotopes, leveraging the capabilities of our bioconjugation and radiochemistry expertise. It is applicable to small molecules, biologics, nanoparticles.
Oncodesign Services support radiopharmaceuticals development for Theranostics.
DRIVE-MRT: a premium "nuclear medicine" solution in Oncology​
Pharmimage® – a non-invasive pharmaco-imaging capability
Our technology module, Pharmimage® is designed to monitor the effect of treatments and to define effective translational biomarkers in precision medicine. It helps to answer questions using non–invasive, whole–body techniques:
Is the target expressed? (Diagnosis of the disease, heterogen

eity of target expression,

distribution of the target in metastatic cancer, CNS, cardiology, etc.)

Does the drug reach the target? (Pharmacokinetics, biodistribution, blood

–

brain

barrier crossing, etc.)

Is the target inhibited/activated, and does this

induce biochemical and biological

changes?

(Pharmacodynamics, immunomonitoring, optimal biological dose, etc.)

Are there any potential toxicities and drug interactions?

(Safety, study on drug combinations, metabolism, etc.)

Are these changes related to

a clinical criterion? (Efficacy of a new treatment,

monitoring of the immune response to a vaccine, emergence of resistance in precision

medicine, etc.)

Can subpopulations of responders be determined? (Translational biomarker)