Oncology
Preclinical pharmacology CRO Services for oncology proof of concept
Since the inception of the company in 1995, Oncodesign Services has been pioneering in translational pharmacology to study and treat cancer. Our extensive knowledge covers a wide in vivo pharmacological scope from syngeneic to xenograft including humanized models. Our capabilities respond to the growing need for proof of concept investigations for innovative therapeutic approaches and drugs in oncology and immune-oncology.
Either as stand-alone (SOLO) or integrated (INPACT) programs, our multi-disciplinary teams of experts in in vitro and in vivo biologists, DMPK and pharmaco-imaging scientists apply their know-how in state-of-the-art laboratories based in France (Dijon and Paris) and Canada (Montreal). If the perfect model is not available, we can develop a custom one with you.
Integrated services can be the business model of choice when you need to:
Leverage a consistent tumor bank for in vitro screening and in vivo pharmacology.
Ensure swift preclinical action after a lead has been identified, for fastest time to IND.
Leverage continuity in the project team to enhance project problem-solving.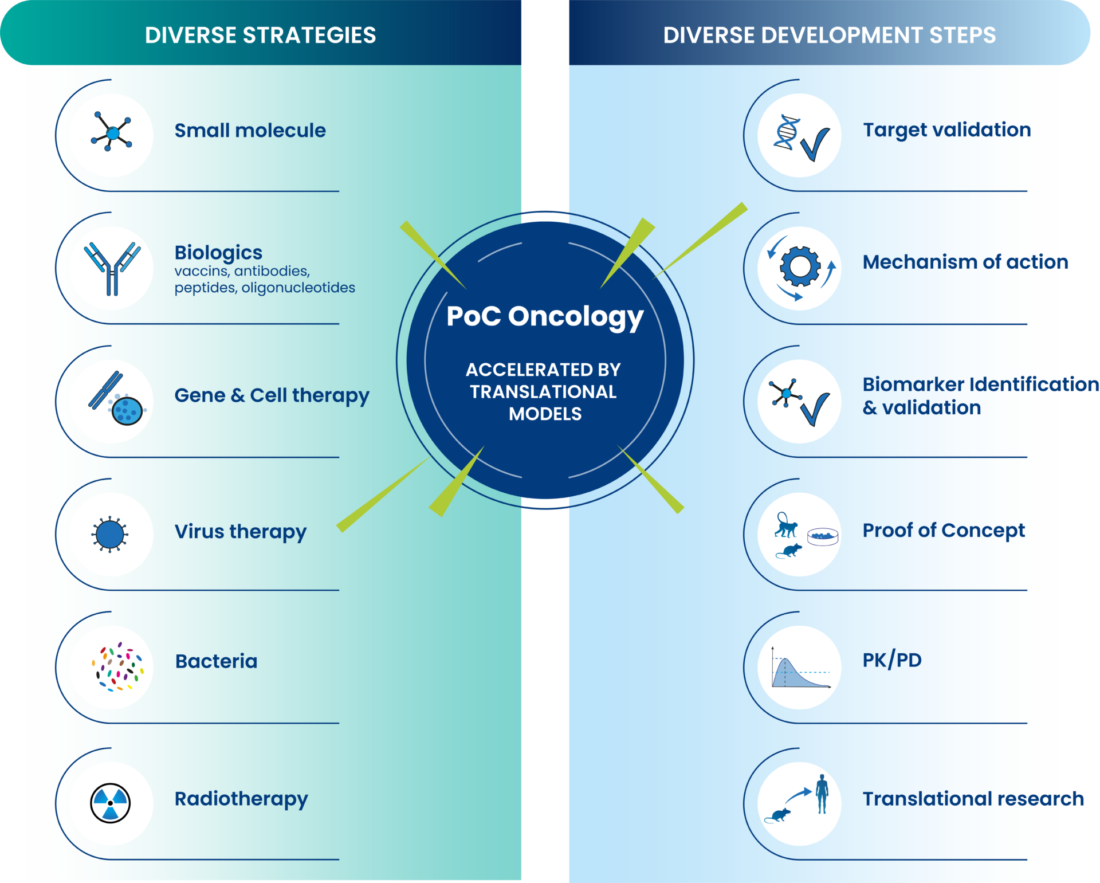 Oncodesign Services serves all therapy types based on longstanding experience, including small molecules , antibodies, antibody-drug-conjugates (ADCs), bispecifics, new biological entities (oligonucleotides, peptides, proteins), cell therapies, radiotherapies, vaccines, viral vectors and microbial vectors. Browse specific service packages by therapeutic strategy:
Kinase Inhibitors
Oncodesign Services has deep experience with kinase inhibitors, offering services in chemistry, screening and preclinical pharmacology.  Click here to learn more about our lead optimization capabilities and experience developing this class of compound.  Click here to view a list of CDX cell lines characterized for response to a range of tyrosine kinase inhibitor drugs. 
Combination strategies
Oncodesign Services has long experience using standard of care (SOC) drugs and radiotherapy as reference treatments and as combination therapies in preclinical pharmacology studies. Since most new therapies will be launched as second-line treatments in non-responding patients, Oncodesign Services guides customer programs toward these market-entrant strategies.
Drug administrations
Our technicians are trained for drug administration by PO, IP, IV (bolus or perfusion), SC, Intra- nasal, intra-tumoral, intra-rectal, intra-vesical, intra-cerebral.
Translational research
Oncodesign Services 's goal is to design studies to mimic the clinical situation, and so aim to optimize clinical success. Toward this goal, we utilize a wide range of models, including human CDX, human PDX, mouse and rat syngeneic models, placing them subcutaneously or orthotopically, as well as utilizing clinical treatment strategies (surgery, radiotherapy, adjuvant or neoadjuvant treatment with SOCs) in order to maximize the translatability of the clinical drug positioning.
Oncodesign Services has more than 400  tumor models. Browse our Tumor Bank here
The rat is a useful host for certain kinds of tumor modeling. These include:
Orthotopic brain tumors requiring a larger brain volume than a mouse
Prodrug strategies requiring a certain CYP for conversion
Situations of toxic metabolites produced in mice but not humans or rats
When longitudinal blood sampling is required from a single animal
Nude rats are used as hosts for CDX tumors while immune-intact rats are use to host syngeneic rat tumors.
Browse our list of rat tumor models here
Standard readouts in oncology
The standard readout for subcutaneous tumors is tumor size as measured by automated caliper and for orthotopic models Oncodesign Services can offer survival and tumor size and RECIST criteria, multimodal in vivo imaging, genomic, liquid biopsy, protein expression, cytometry. Our disseminated  tumor models encompass typically luciferase-tagged syngeneic models and cell-derived Xenografts (CDX) with an optical imaging readout.
Ex vivo analysis of the tumor microenvironment (TME) can be offered by immunohistochemistry (IHC) and by  flow/FACS to study tumor-infiltrating lymphocyte (TILs). Standard panels are already validated for most immune cell types.
Do you have a request for Oncology project ? Contact-us!