Preclinical CRO Services
for Inflammatory Diseases of the Gut
Acute and chronic inflammatory diseases of the gastro-intestinal tract can be triggered by several causes such as food intolerance, immunotherapies or immune dysregulation. Rodent models of gut inflammations, available as CRO services, are helpful to decipher mechanisms of disease triggering or sustaining observed in patients.
Oncodesign Services offers access several preclinical models addressing a variety of gut diseases, and provides CRO support for de novo development of new gut inflammation models recently described in literature.
Typical readouts for gut inflammation
Clinical score aka "Disease Activity Index (DAI)"
Histopathology of swiss-rolled colon,
– Hematoxylin/Phloxin stain for inflammation
– AB-PAS stain for Goblet cell mucus production
Body weight
Stool consistency
Blood in stool
Gene expression in colon, by qPCR/dPCR
Biomarker / drug monitoring
Discover Oncodesign Services offers for gut inflammation diseases
In Vivo Models

DSS-induced acute colitis (1)
DSS-induced acute colitis in CD34+ humanized mice (2)
DSS + anti-CTLA4 antibody-induced chronic colitis (3)
Repeated DSS cycles-induced chronic colitis (4)
Anti-CD40-induced mild colitis in C57b6 RAG2-/- mice ((5)
Spontaneous colitis in IL-10 -/- mice (6)
Humanized models
Oncodesign services has a strong experience with mouse humanization as a support for cancer research. Those techniques have also been deployed to other therapeutic areas. BRGSF-HIS ("Human immune system")(7) mice are super-immunodeficient animals (no T/B/NK cells) that have been humanized with CD34+ human hematopoietic stem cells and have an FLT3L-boostable human dendritic cell compartment.
The DSS-induced colitis BRGSF-HIS model causes similar cytokine and chemokine gene expression patterns in both syandard and humanized mice, with increases in TNFa, CCl2, CXCl2, CCl3, CCl4, CXCl10, IL-12 and IL-17f over seven days of treatment.
Case studies for gut inflammation diseases
#1 DSS-induced Acute Colitis
DSS is added to drinking water, over a 7-day treatment protocol.  Tacrolimus (FK-506 immuno-suppressor) partially limits the evolution of the disease, as seen by DAI. Untreated animals display increased spleen size and weight at D7, and also colon shortening.
Tacrolimus limits spleen inflammatory cell accumulation. Cytokine expression can be measured by qPCR, and a classic inflammatory profile is typically observed, with elevated IL-1a, IL-1b and IL-6.
| | | | |
| --- | --- | --- | --- |
| Score | Body weight loss (%) | Stool consistency | Blood in feces |
| 0 | 0 | Normal | Absence |
| 1 | 1-5 | Soft | Hemoccult + |
| 2 | 6-10 | Very soft | Hemoccult ++ |
| 3 | 11-15 | Diarrhea | Bloody |
| 4 | >15 | Severe diarrhea | |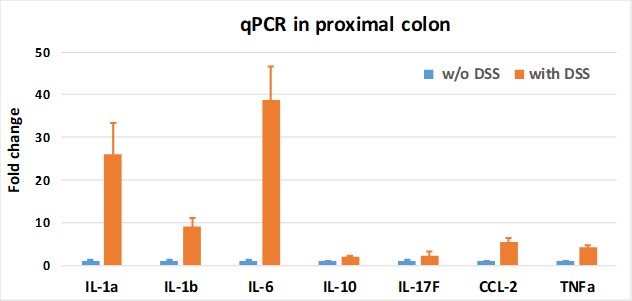 #2: DSS + Anti-CTLA4 Antibody-induced Chronic Colitis Model
Immuno-oncology approaches are promising new cancer treatments, but a number of unfortunate side effects need to be managed clinically.  These typically result from hyper-activation of the immune system, which can affect the gut, skin, liver or endocrine glands.  Over 1/3 of patients receiving the anti-CTLA4 antibody Ipilimumab report colitis symptoms, for example.
This same antibody is used by Oncodesign-Services to create a chronic colitis model by combining the antibody with DSS as a standard colitis inducer. Mice typically recover from the DSS-induced colitis after DSS removal on D7, but anti-CTLA4 treatment delays the recovery phase,mimicking chronic colitis.

References

(1) DSS-induced acute colitis

Chassaing B, Aitken JD, Malleshappa M, Vijay-Kumar M. Dextran sulfate sodium (DSS)-induced colitis in mice. Curr Protoc Immunol. 2014 Feb 4;104:15.25.1-15.25.14. doi: 10.1002/0471142735.im1525s104. PMID: 24510619; PMCID: PMC3980572. https://currentprotocols.onlinelibrary.wiley.com/doi/10.1002/0471142735.im1525s104

Implication of the immune system:

Bauer C, Duewell P, Mayer C, Lehr HA, Fitzgerald KA, Dauer M, Tschopp J, Endres S, Latz E, Schnurr M. Colitis induced in mice with dextran sulfate sodium (DSS) is mediated by the NLRP3 inflammasome. Gut. 2010 Sep;59(9):1192-9. doi: 10.1136/gut.2009.197822. Epub 2010 May 4. PMID: 20442201. https://gut.bmj.com/content/59/9/1192.long

Wu Z, Huang S, Li T, Li N, Han D, Zhang B, Xu ZZ, Zhang S, Pang J, Wang S, Zhang G, Zhao J, Wang J. Gut microbiota from green tea polyphenol-dosed mice improves intestinal epithelial homeostasis and ameliorates experimental colitis. Microbiome. 2021 Sep 7;9(1):184. doi: 10.1186/s40168-021-01115-9. PMID: 34493333; PMCID: PMC8424887. https://microbiomejournal.biomedcentral.com/articles/10.1186/s40168-021-01115-9

Rodríguez-Nogales A, Algieri F, Garrido-Mesa J, Vezza T, Utrilla MP, Chueca N, García F, Rodríguez-Cabezas ME, Gálvez J. Intestinal anti-inflammatory effect of the probiotic Saccharomyces boulardii in DSS-induced colitis in mice: Impact on microRNAs expression and gut microbiota composition. J Nutr Biochem. 2018 Nov;61:129-139. doi: 10.1016/j.jnutbio.2018.08.005. Epub 2018 Sep 1. PMID: 30236870. https://www.sciencedirect.com/science/article/abs/pii/S0955286318305333?via%3Dihub

Miao F, Shan C, Ma T, Geng S, Ning D. Walnut oil alleviates DSS-induced colitis in mice by inhibiting NLRP3 inflammasome activation and regulating gut microbiota. Microb Pathog. 2021 May;154:104866. doi: 10.1016/j.micpath.2021.104866. Epub 2021 Mar 26. PMID: 33775855. https://www.sciencedirect.com/science/article/abs/pii/S0882401021001388?via%3Dihub

Okada Y, Maeda N, Takakura S, Miyata K, Koshiba M. Tacrolimus ameliorates dextran sulfate sodium-induced colitis in mice: implication of interferon-γ and interleukin-1β suppression. Biol Pharm Bull. 2011;34(12):1823-7. doi: 10.1248/bpb.34.1823. PMID: 22130237. https://www.jstage.jst.go.jp/article/bpb/34/12/34_12_1823/_article

(2) DSS-induced acute colitis in CD34+ humanized mice

Manzini R, Schwarzfischer M, Atrott K, Laimbacher A, Lang S, Wawrzyniak M, Rickenbacher A, Turina M, Hruz P, Lissner D, Siegmund B, Rogler G, Scharl M, Spalinger MR. Combination of Vedolizumab With Tacrolimus Is More Efficient Than Vedolizumab Alone in the Treatment of Experimental Colitis. Inflamm Bowel Dis. 2021 Nov 15;27(12):1986-1998. doi: 10.1093/ibd/izab063. PMID: 33847343. https://academic.oup.com/ibdjournal/article/27/12/1986/6224889?login=false

(3) DSS + anti-CTLA4 antibody-induced chronic colitis

Zhang S, Liang W, Luo L, Sun S, Wang F. The role of T cell trafficking in CTLA-4 blockade-induced gut immunopathology. BMC Biol. 2020 Mar 17;18(1):29. doi: 10.1186/s12915-020-00765-9. PMID: 32183814; PMCID: PMC7079427: https://bmcbiol.biomedcentral.com/articles/10.1186/s12915-020-00765-9

Chao G, Li X, Ji Y, Zhu Y, Li N, Zhang N, Feng Z, Niu M. MiR-155 controls follicular Treg cell-mediated humoral autoimmune intestinal injury by inhibiting CTLA-4 expression. Int Immunopharmacol. 2019 Jun;71:267-276. doi: 10.1016/j.intimp.2019.03.009. Epub 2019 Mar 28. PMID: 30927737. https://www.sciencedirect.com/science/article/pii/S1567576918310270?via%3Dihub

Bertrand A, Kostine M, Barnetche T, Truchetet ME, Schaeverbeke T. Immune related adverse events associated with anti-CTLA-4 antibodies: systematic review and meta-analysis. BMC Med. 2015 Sep 4;13:211. doi: 10.1186/s12916-015-0455-8. PMID: 26337719; PMCID: PMC4559965. https://bmcmedicine.biomedcentral.com/articles/10.1186/s12916-015-0455-8

(4) Repeated DSS cycles-induced chronic colitis

Melgar S, Karlsson A, Michaëlsson E. Acute colitis induced by dextran sulfate sodium progresses to chronicity in C57BL/6 but not in BALB/c mice: correlation between symptoms and inflammation. Am J Physiol Gastrointest Liver Physiol. 2005 Jun;288(6):G1328-38. doi: 10.1152/ajpgi.00467.2004. Epub 2005 Jan 6. PMID: 15637179. https://journals.physiology.org/doi/full/10.1152/ajpgi.00467.2004?rfr_dat=cr_pub++0pubmed&url_ver=Z39.88-2003&rfr_id=ori%3Arid%3Acrossref.org

Oh SY, Cho KA, Kang JL, Kim KH, Woo SY. Comparison of experimental mouse models of inflammatory bowel disease. Int J Mol Med. 2014 Feb;33(2):333-40. doi: 10.3892/ijmm.2013.1569. Epub 2013 Nov 27. PMID: 24285285. https://www.spandidos-publications.com/ijmm/33/2/333

Rangan P, Choi I, Wei M, Navarrete G, Guen E, Brandhorst S, Enyati N, Pasia G, Maesincee D, Ocon V, Abdulridha M, Longo VD. Fasting-Mimicking Diet Modulates Microbiota and Promotes Intestinal Regeneration to Reduce Inflammatory Bowel Disease Pathology. Cell Rep. 2019 Mar 5;26(10):2704-2719.e6. doi: 10.1016/j.celrep.2019.02.019. PMID: 30840892; PMCID: PMC6528490. https://www.cell.com/cell-reports/fulltext/S2211-1247(19)30181-0?_returnURL=https%3A%2F%2Flinkinghub.elsevier.com%2Fretrieve%2Fpii%2FS2211124719301810%3Fshowall%3Dtrue

(5) Anti-CD40-induced mild colitis in C57BL/6 RAG2-/- mice

Joyce-Shaikh B, Cua DJ, Bauché D. Induction and Analysis of Anti-CD40-induced Colitis in Mice. Bio Protoc. 2019 Feb 5;9(3):e3153. doi: 10.21769/BioProtoc.3153. PMID: 33654962; PMCID: PMC7854191.

https://en.bio-protocol.org/en/bpdetail?id=3153&type=0

Kumar AA, Delgado AG, Piazuelo MB, Van Kaer L, Olivares-Villagómez D. Innate CD8αα+ lymphocytes enhance anti-CD40 antibody-mediated colitis in mice. Immun Inflamm Dis. 2017 Jun;5(2):109-123. doi: 10.1002/iid3.146. Epub 2017 Feb 20. PMID: 28474503; PMCID: PMC5418141. https://onlinelibrary.wiley.com/doi/10.1002/iid3.146

Ogrinc Wagner A, Friedrich V, Barthels C, Marconi P, Blutke A, Brombacher F, Brocker T. Strain specific maturation of Dendritic cells and production of IL-1β controls CD40-driven colitis. PLoS One. 2019 Jan 17;14(1):e0210998. doi: 10.1371/journal.pone.0210998. PMID: 30653608; PMCID: PMC6336277. https://journals.plos.org/plosone/article?id=10.1371/journal.pone.0210998

Liu C, Lin J, Langevine C, Smith D, Li J, Tokarski JS, Khan J, Ruzanov M, Strnad J, Zupa-Fernandez A, Cheng L, Gillooly KM, Shuster D, Zhang Y, Thankappan A, McIntyre KW, Chaudhry C, Elzinga PA, Chiney M, Chimalakonda A, Lombardo LJ, Macor JE, Carter PH, Burke JR, Weinstein DS. Discovery of BMS-986202: A Clinical Tyk2 Inhibitor that Binds to Tyk2 JH2. J Med Chem. 2021 Jan 14;64(1):677-694. doi: 10.1021/acs.jmedchem.0c01698. Epub 2020 Dec 28. PMID: 33370104. https://pubs.acs.org/doi/10.1021/acs.jmedchem.0c01698

Arranz A, Reinsch C, Papadakis KA, Dieckmann A, Rauchhaus U, Androulidaki A, Zacharioudaki V, Margioris AN, Tsatsanis C, Panzner S. Treatment of experimental murine colitis with CD40 antisense oligonucleotides delivered in amphoteric liposomes. J Control Release. 2013 Feb 10;165(3):163-72. doi: 10.1016/j.jconrel.2012.11.008. Epub 2012 Nov 21. PMID: 23178664. https://www.sciencedirect.com/science/article/abs/pii/S0168365912008048?via%3Dihub

(6) Spontaneous colitis in IL-10 -/- mice

Gunasekera DC, Ma J, Vacharathit V, Shah P, Ramakrishnan A, Uprety P, Shen Z, Sheh A, Brayton CF, Whary MT, Fox JG, Bream JH. The development of colitis in Il10-/- mice is dependent on IL-22. Mucosal Immunol. 2020 May;13(3):493-506. doi: 10.1038/s41385-019-0252-3. Epub 2020 Jan 13. PMID: 31932715; PMCID: PMC7566780. https://www.mucosalimmunology.org/article/S1933-0219(22)00314-2/fulltext

Wilson MS, Ramalingam TR, Rivollier A, Shenderov K, Mentink-Kane MM, Madala SK, Cheever AW, Artis D, Kelsall BL, Wynn TA. Colitis and intestinal inflammation in IL10-/- mice results from IL-13Rα2-mediated attenuation of IL-13 activity. Gastroenterology. 2011 Jan;140(1):254-64. doi: 10.1053/j.gastro.2010.09.047. Epub 2010 Oct 14. PMID: 20951137; PMCID: PMC3006653. https://linkinghub.elsevier.com/retrieve/pii/S0016-5085(10)01456-3

Kopper JJ, Theis KR, Barbu NI, Patterson JS, Bell JA, Gettings JR, Mansfield LS. Comparison of Effects of Trichuris muris and Spontaneous Colitis on the Proximal Colon Microbiota in C3H/HeJ and C3Bir IL10-/- Mice. Comp Med. 2021 Feb 1;71(1):46-65. doi: 10.30802/AALAS-CM-20-000021. Epub 2020 Dec 17. PMID: 33334395; PMCID: PMC7898169. https://www.ingentaconnect.com/content/aalas/cm/2021/00000071/00000001/art00002

Shen B, Hu J, Song H, Wang Z, Fan J, Sun Y, Wang Q. Antibiotics exacerbated colitis by affecting the microbiota, Treg cells and SCFAs in IL10-deficient mice. Biomed Pharmacother. 2019 Jun;114:108849. doi: 10.1016/j.biopha.2019.108849. Epub 2019 Apr 8. PMID: 30974386. https://www.sciencedirect.com/science/article/pii/S0753332219303634?via%3Dihub

Mitchell J, Kim SJ, Koukos G, Seelmann A, Veit B, Shepard B, Blumer-Schuette S, Winter HS, Iliopoulos D, Pothoulakis C, Im E, Rhee SH. Colonic Inhibition of Phosphatase and Tensin Homolog Increases Colitogenic Bacteria, Causing Development of Colitis in Il10-/- Mice. Inflamm Bowel Dis. 2018 Jul 12;24(8):1718-1732. doi: 10.1093/ibd/izy124. PMID: 29788382; PMCID: PMC6231371. https://academic.oup.com/ibdjournal/article/24/8/1718/4999451?login=false

(7) Humanized models / BRGSF-HIS model

Negi S, Saini S, Tandel N, Sahu K, Mishra RPN, Tyagi RK. Translating Treg Therapy for Inflammatory Bowel Disease in Humanized Mice. Cells. 2021 Jul 21;10(8):1847. doi: 10.3390/cells10081847. PMID: 34440615; PMCID: PMC8393385. https://www.mdpi.com/2073-4409/10/8/1847

Case studies for gut inflammation diseases

#1 DSS-induced Acute Colitis : Same references as above

#2: DSS + Anti-CTLA4 Antibody-induced Chronic Colitis Model : Same references as above