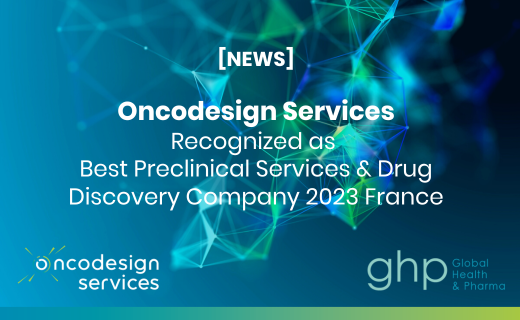 Oncodesign Services receives global excellence awards
Oncodesign Services is thrilled to announce that we have been awarded 'Best Preclinical Services & Drug Discovery Company 2023 – France! '
The Global Excellence Awards was launched in 2020 by the Global Health & Pharma Magazine to celebrate and highlight the innovative companies, teams and individuals who are excelling across the vast landscape encompassing healthcare, life science and pharmaceutical sectors. 
"It is an honour to receive this award. At Oncodesign Services, we are driven by a shared vision to advancing scientific research and delivering cutting-edge solutions to our valued customers. This award recognizes outsanding achievements in the field of preclinical services and drug discovery", commented Fabrice Viviani, CEO of Oncodesign Services. 
Interesting to discuss drug discovery and preclinical development ? Get in touch via the contact page!