Immunogenicity
Immunogenicity CRO services to assess drug safety and efficacy in preclinical studies
Immunogenicity is a major item in the Drug Development process. The study of immunogenicity generates data on the efficacy and the safety of the drug candidate behavior, enabling the translation of findings from the laboratory to the clinic.
CRO services can conduct comprehensive immunogenicity testing to accelerate your research programs.
Why are immunogenicity data important? 
Immunogenicity risk assessment (IRA) needs to be controlled all along the development of the drug, from target identification to clinical phase.
Immunogenicity refers to the ability of novel therapeutics to stimulate an immune response in the human or animal body, specifically, the development of antidrug antibodies (ADAs).  The neutralizing fraction of ADA (NAb) may affect the efficacy of product and potentially threaten patient safety.
Measuring immunogenicity is, however, a complex process…
The measurement of adverse immune reactions is complex as it depends on many drug, target, patient and disease specific aspects. Anti-drug antibodies (ADA) are detected with qualitative methods based on a tier based approach (i.e. screening / confirmation / characterization of ADA) in samples from preclinical studies (GLP)and clinical trials.
For that, it is necessary to design:

Administration protocols

Collect protocols (ADA, PK/TK)

Interpretation of results
Oncodesign Services, a CRO dedicated to immunogenicity testing services
Oncodesign Services is a leading CRO specializing in drug discovery and preclinical services. With over 25 years of experience, we offer bioanalytical sample analysis and immunogenicity services including platforms for method development, method transfert, method validation and sample analysis.
Our immunogenicity department offers solutions and services in immunogenicity included: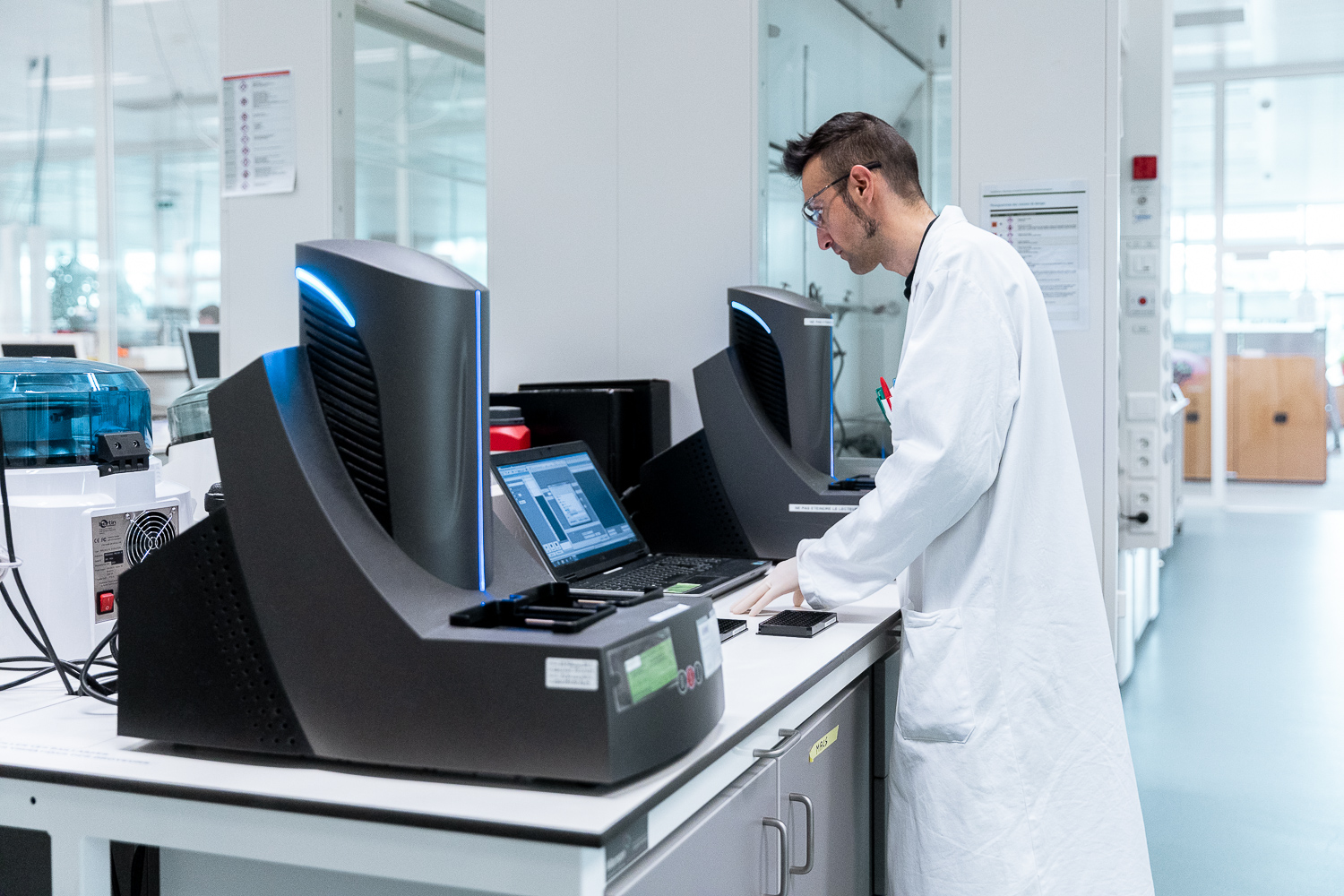 MSD® plateform in Oncodesign Services
Case study – ADA sample analysis from preclinical study
Detection of anti-drug "X" antibodies in specimens from toxicity study in cynomolgus monkey including recovery and toxicokinetics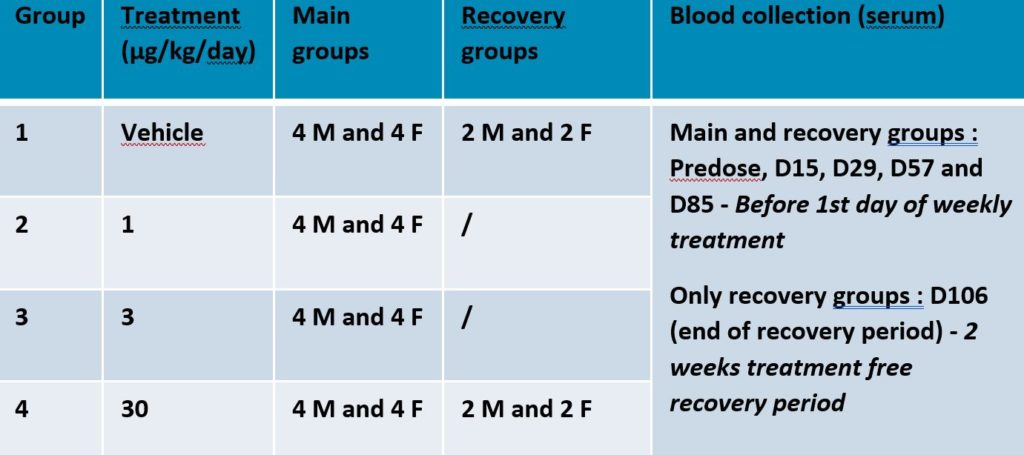 Vocabulary :

EoT : End of Treatment
EoR: End of Recovery
BD: Before dosing
D: Day

ADA detection method:

Developped and validated by Oncodesign-Services
Serum sample pretreatment by acid dissociation
Followed by bridging ECLA detection using MSD® ECL system
Results :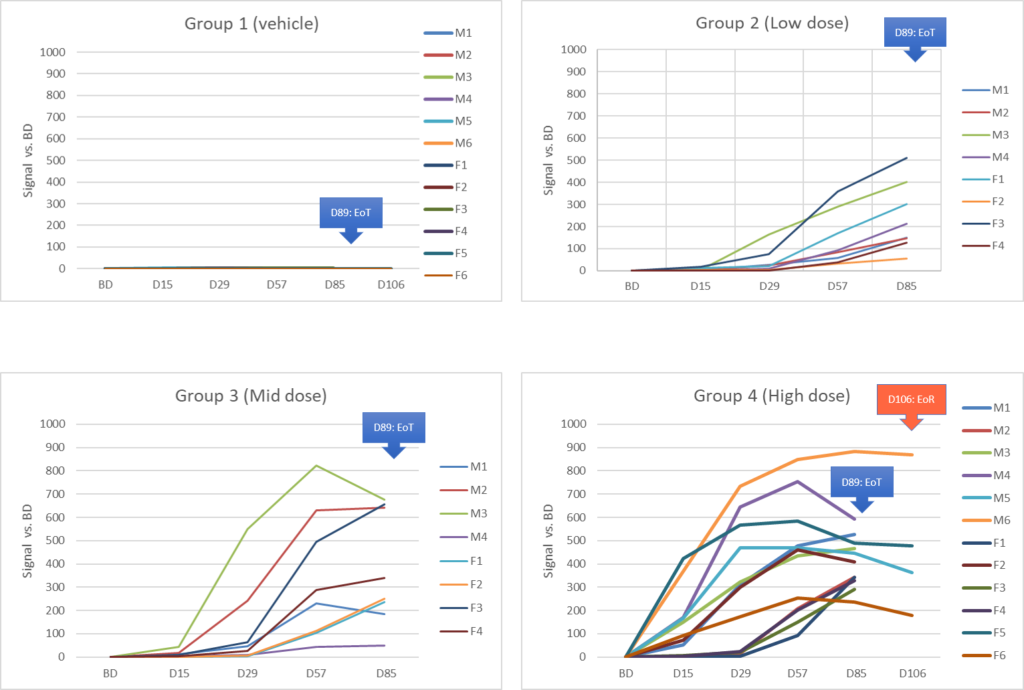 Références :
1.FDA
S. Food and Drug Administration: Center for Drug Evaluation and Research, Center for Biologics Evaluation and Research. Guidance for Industry: Immunogenicity Testing of Therapeutic Protein Products —Developing and Validating Assays for Anti-Drug Antibody Detection (January 2019).
2. EMEA
18 May 2017 EMEA/CHMP/BMWP/14327/2006 Rev 1, Guideline on Immunogenicity assessment of therapeutic proteins.
3. EBF
Laurén A. et al. A strategic approach to nonclinical immunogenicity assessment: a recommendation from the European Bioanalysis Forum. White Paper – Bioanalysis (2021)

Kramer D. Risk Based Approaches to Immunogenicity – EBF Training Day: Practical Aspects of Immunogenicity (2021)

Dreher I. Towards an EBF Recommendation on NAb – Training Day: Managing the Practical Aspects of Immunogenicity (2021)
4. EIP  
Devanarayan V. Screening & Confirmatory Cut-Points – Brief Overview & Answers to some FAQs. EIP Symposium, Immunogenicity of Biopharmaceuticals (2009)

Devanarayan V. Practical advice & insights on Immunogenicity cut points and some assay validation parameters. EIP Symposium (2019)

Kramer D. ADA Testing in Repeated Dose Toxicity Studies – Strategies EIP Symposium (2020)
5. AAPS 
Shankar G. et al. Assessment and Reporting of the Clinical Immunogenicity of Therapeutic Proteins and Peptides—Harmonized Terminology and Tactical Recommendations. AAPS J. (2014)

Devanarayan V. et al. Recommendations for Systematic Statistical Computation of Immunogenicity Cut Points. AAPS J. (2017)

Myler H. et al. Meeting Report – Report on the AAPS Immunogenicity Guidance Forum. The AAPS Journal (2019)

Civoli F. et al. Recommendations for the Development and Validation of Immunogenicity Assays in Support of Biosimilar Programs. AAPS J. (2020)