Preclinical cancer models
Discovery our cancer models bank to support preclinical studies in oncology
To mimic the clinical situation and optimize clinical success, the selection of preclinical cancer models is essential from the first phases of drug development. Oncodesign Services, a leading CRO in drug discovery, guides you to success with your preclinical cancer model selection.
Why use preclinical cancer models in therapeutic evaluation? 
Preclinical cancer models are an essential tool for the drug discovery process. These experimental systems must mimic the therapeutic response in humans, including efficacy, safety and potential mechanisms of resistance.
Indeed, these preclinical cancer models provide critical data to understanding the physiopathology of cancer and evaluate novel therapeutic agents. They are a crucial bridge between research development and clinical trial.
Oncodesign Services offers a large collection of cancer models
Oncodesign Services is a CRO company that offer translational research services for preclinical drug discovery, with a particular focus in Oncology. Oncodesign Services offers a range of discovery & preclinical services built upon over 500 cancer models, covering 20 organ origins and up to 35 pathologies.
Some of the cancer models that Oncodesign Services offers include :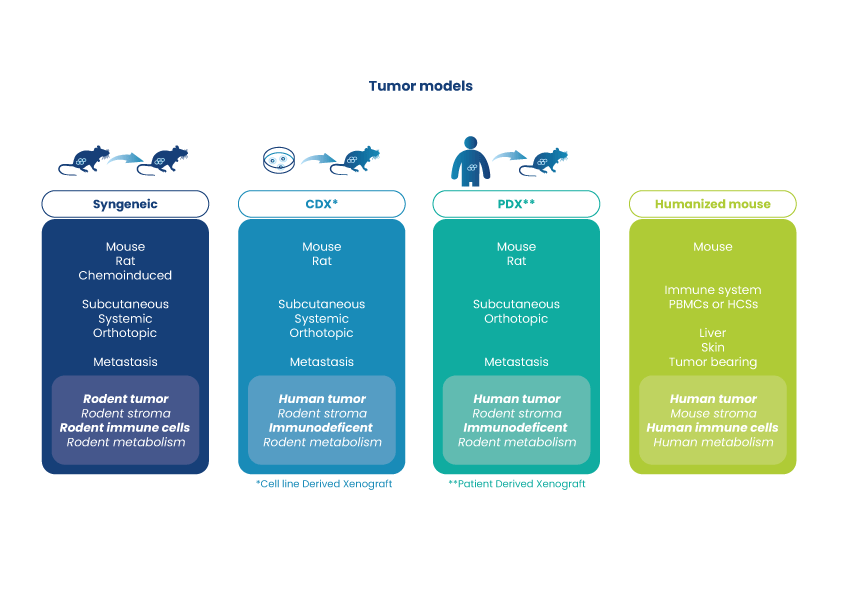 This diversity allows researchers to choose the most appropriate model or combination of models for their specific research need. We can also develop tailor-made cancer models, both in vitro and in vivo, to your needs.
Do you want our complete list of cancer models ?
A multi-disciplinary teams of experts in oncology
Choosing Oncodesign Services for your cancer model selection allows you to access to :