Toxicology studies
Preclinical Toxicology Studies to support your drug development
Preclinical toxicological studies are an essential step to demonstrate that a drug can go into clinical trial. Oncodesign Services is running, with the support of dedicated partners for the in-life phase, non-GLP and GLP studies to assess the safety of your medicine.
Why use toxicology studies in your preclinical programs ?
They provide essential data on the potential safety and toxicity of a drug candidate prior to First-In-Human (FIH) administration, such as:
What is the appropriate dose range (DRF: Dose Range Finding) to achieve therapeutic effects while minimizing toxicology?
What is the potential toxic effect of the drug candidate on the body? And what are the mechanisms responsible for observed toxic effects?
What is the risk-to-benefit ratio for aiding in decision-making?
Preclinical toxicology studies are conducted according to specific guidelines (EMA, FDA, ICH) and regulations (GLP).
The duration of a toxicology study can vary depending on the new therapeutic entity (NTE), the type of study and the animal species being used.
How can Oncodesign Services support you in your preclinical programs?
All along the drug discovery process, Oncodesign Services provides acute, subacute & chronic toxicity studies in rodent and non-rodent species, including PK, toxicokinetic, recovery period and metabolism (ADME)
Example of support services:
Development and GLP-compliant validation of analytical method for formulation
GLP-compliant Dose formulation analysis
Development and GLP-compliant validation of bioanalytical method (LC-MS/MS, qPCR, dPCR, ECLIA, ELISA)
GLP-compliant bioanalytical assays
In vivo toxicology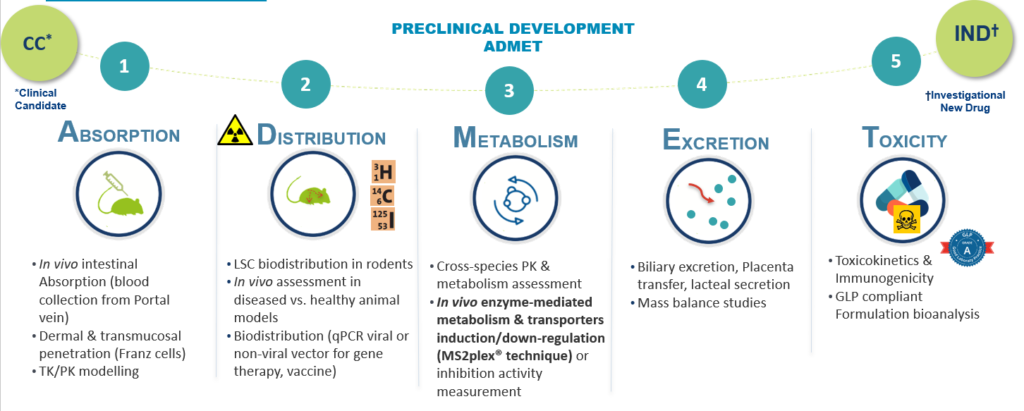 Download examples of generic IND-enabling for NBE and NCE
For Non-GLP studies, Oncodesign Services can support you with all rodent species: mouse, rat and Golden Syrian Hamsters (GSH).
Our dedicated partners in toxicology studies for all GLP-compliant in-life phases have access to a large range of animal models: Mouse, Rat, Hamster, Cotton Rat, Ferret, Guinea pig, Minipig, Rabbit, Cynomolgus monkey, Marmoset Monkey, Dog and Cat.
Specialized toxicology: 
DART
Neonatal & juvenile toxicology (rodent & non-rodent)
Genetic toxicology
Carcinogenicity
In vitro toxicology
Cardiotoxicity
Local tolerance
Immunotoxicology
More information ? Contact us !