In-vivo models for biologics
Support biologics development with large bank of in vivo models
Oncodesign Services provides a large bank of in vivo models for biologics, from discovery to clinical and commercial manufacturing. In oncology, infectious diseases and inflammatory diseases, we support companies to develop naked and bioconjugated antibodies and derivatives.
Biologics Drug Discovery
New biological entities or biological therapeutic products (namely Biologics) include a huge diversity of products such as: vaccines, gene and cellular therapies, recombinant therapeutic proteins, naked or conjugated monoclonal antibodies, bispecific antibody-like structure and others. Biologics can be composed of sugars, proteins, nucleic acids or complex combinations of these substances, or may even be living entities.
A wide portfolio of in vivo models for the preclinical evaluation of biologics​
Attempting to support biologics development cycle, Oncodesign Services has established a fully integrated offering from early discovery through to preclinical testing as well as support for clinical studies.
Our in vivo efficacy and safety studies use refined and highly characterized syngeneic, xenogeneic, PDX or humanized mouse models up to non-human primates, in oncology, inflammation, microbiome, infectious diseases.
We help you select the best biologics candidate by providing preclinical in vivo pharmacology services for:
Target validation of biologics with transgenic models
Proof of concept for biologics in pharmacology
Establish PK/PD relationships in healthy animals and disease models

Pharmacokinetics and biodistribution, including by imaging

Determination of the mechanism of action of a drug candidate molecule

Translational biomarker discovery and validation

Investigation of the potential for new therapeutic indications or repositioning of an existing biologics
Oncodesign Services maintains three vivaria across two continents, including facilities certified for handling BSL2 and BSL3 pathogens.
Know more about our Oncology models
Example of results with in-vivo studies on biologics :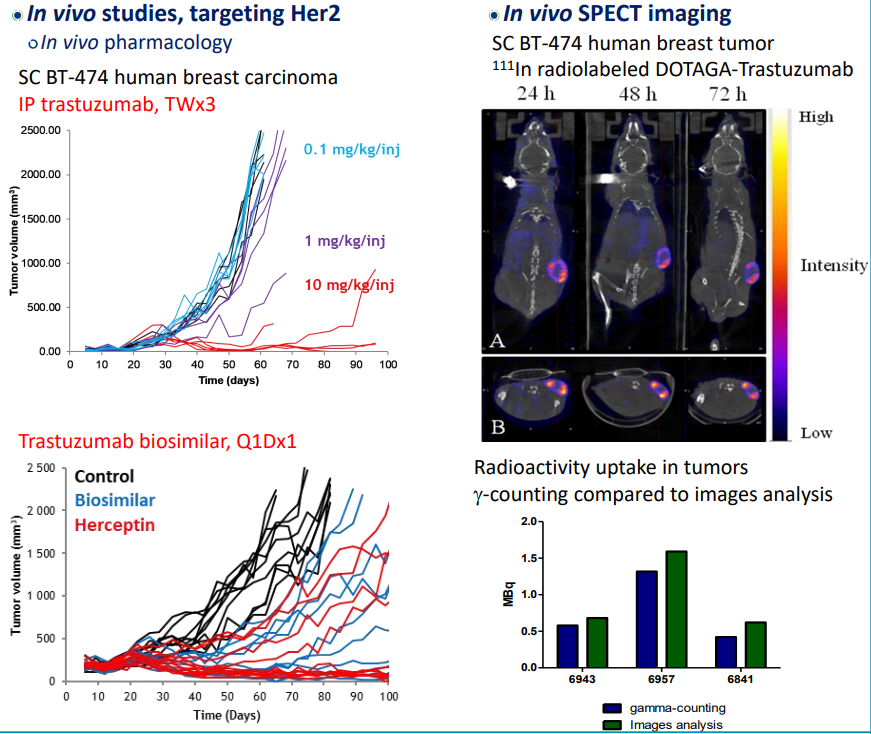 Discover DRIVE-Biologics : our specific solution for biologics development
The DRIVE Biologics consortium provides a unique integrated solution with specialist services from strategic partners. These services enable to:
Design, optimization and development of novel biological entities addressing the therapeutic target of interest
Proof of concept pharmacology with in vitro and in vivo models
Toxicology studies
Clinical and CMC
Oncodesign Services supplies the high level, IND-focused discipline to manage programs intro preclinical and beyond.