Seeking Pharmacology Support for your Fibrosis Programs?
Fibrosis is an extremely complex process that depends on the interactions of many cells, molecules and different pathways. Animal models are valuable means to examine the pathogenesis of these diseases, to identify potential therapeutic targets and develop novel therapies for various fibrotic diseases. At Oncodesign Services, we offer and develop various models of fibrotic diseases including NASH liver diseases for pharmacology studies.
Fibrosis, a disease with high unmet medical needs
Fibrosis is characterized by excessive formation and deposition of fibrous connective tissue (scarring) resulting in progressive architectural remodeling in tissues and organs. Fibrotic disorders, such as NASH, liver sclerosis, pulmonary fibrosis, scleroderma, renal interstitial fibrosis, sequelae to myocardial infarction, systemic sclerosis, and side effects of graft-versus host-disease (GVHD), result in loss of function of affected organs and have been estimated to contribute to approximately 45% of all-cause mortality in the United States.  There are no currently approved treatments for fibrosis.
The fibrosis cascade is typically initiated by inflammatory insult, resulting in upregulation of TGF-beta, which recruits macrophages that secrete metalloproteases (MMPs) that degrade the extracellular matrix (ECM) to remodel the tissue.  This triggers differentiation and activation of myofibroblasts that deposit collagen fibers to cause scarring and organ stiffness.
Oncodesign Services Fibrosis models to support your drug development
Fibrosis models constitute an essential tool for preclinical research, allowing to study the development of fibrosis, replicate the fibrosis-related diseases observed in human patients and develop new therapies.
Oncodesign Services offers stable models, tight data and responsive business culture to support your fibrosis programs. Validated mouse fibrosis models include:
Respiratory fibrosis: bleomycin-induced lung fibrosis
Skin fibrosis: bleomycin-induced scleroderma, Topoisomerase-l immunization-induced skin fibrosis
Liver fibrosis: CCl4-induced fibrosis, Non-Alcoholic Steatohepatitis (NASH)
Kidney fibrosis: Unilateral ureteral ostruction (UUO)-induced renal fibrosis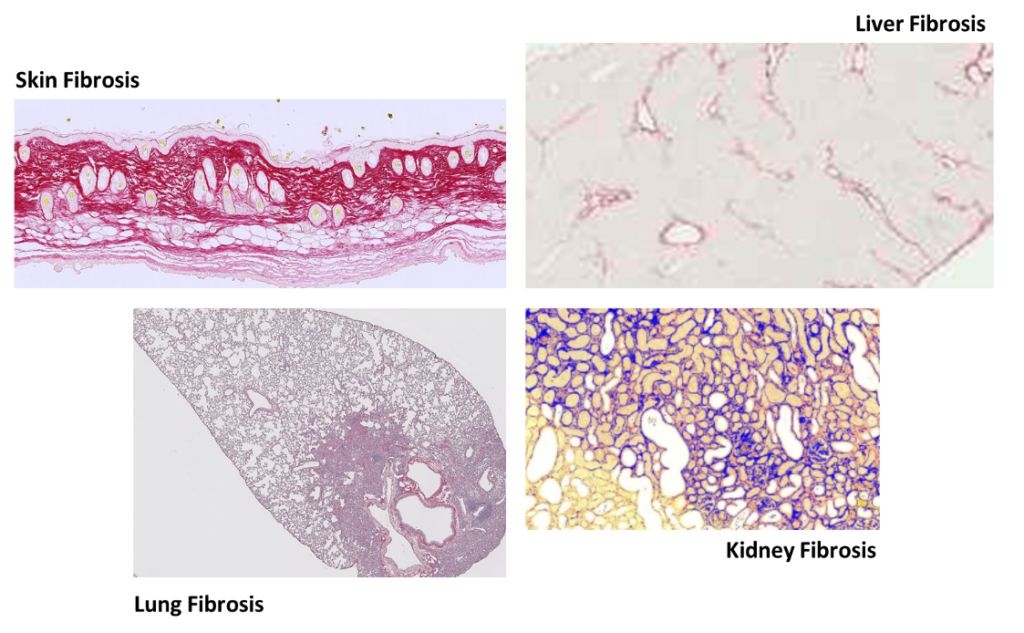 To supplement clinical readouts (body weight and clinical scoring) a number of biomarker readouts can be obtained by histology, IHC, ELISA, MSD, Bio-Plex PCR/RT-q-PCR, and flow/FACS.  Read more about our bioanalytical platform here. 
Case study: Animal models for novel therapies on fibrosis and NASH: Pharmacological validation and gender differences.
Non-alcoholic fatty liver diseases (NAFLD) represent a spectrum of chronic liver disease ranging from simple steatosis to steatohepatitis, and then liver fibrosis or liver cirrhosis. NAFLD are strongly associated with metabolic syndrome including obesity, type 2 diabetes mellitus (T2DM), dyslipidemia and hypertension.
Sex differences exist in the prevalence, risk factors, fibrosis and clinical outcomes of NAFLD suggesting that a proper consideration of sex, age and hormonal differences are needed to fill current gaps and implement precision medicine for patients with NAFLD.
In this case, we have used a model of NASH with number of cellular and molecular processes that are reflective of human NASH and outcomes. Our objective was to assess:
The effect of Elafibranor or/and Obeticholic Acid on the development of NASH and fibrosis.
The effect of Lenvatinib or/and anti-PD-1 on the development of HepatoCellular Carcinomas (HCC)
To assess the sex difference on the pathogenesis and the response to treatments.