Inflammatory Bowels Diseases (IBD) models to support your drug development
Inflammatory Bowel Diseases are a group of chronic inflammatory diseases affecting the gastrointestinal tract, among which the most prominent ones are ulcerative colitis and Crohn's disease, affecting millions of people worldwide. Large numbers of preclinical candidated have been evaluated, but few have reached the clinic, and even fewer have reached the market 
Oncodesign Services, a leading CRO specialized in inflammatory diseases, provides translational models to support your drug discovery and preclinical programs. 
Review of inflammatory bowel disease models
In preclinical research, Inflammatory Bowel Disease models (IBD models) allow mimicking the mechanisms and characteristics of IBD to evaluate the effectiveness of new treatment, providing insight on how these treatments can impact disease progression and symptoms.  
In vivo models, particularly mouse and rat models, are indispensable tools for testing new therapeutic candidates.
Examples of readouts of IBD models
Clinical score aka "Disease Activity Index (DAI)"
Body weight
Stool consistency
Blood in stool
Histopathology and IHC
Gene expression in colon, by qPCR/dPCR
Biomarker / drug monitoring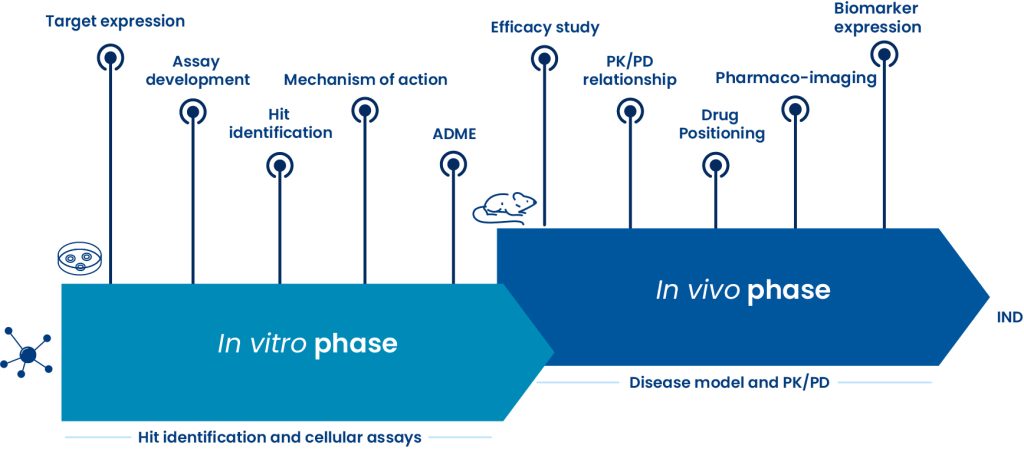 Example of a typical cascade in an integrated inflammation program
Are your looking for a CRO with experience in IBD models?
Oncodesign Services has over 25 years of experience in pharmacology services, and inflammatory diseases. A large range of in vivo models are available or can be developed for specific request.
Example of in vivo IBD models :
Acute colitis in mice- DSS-induced
Acute colitis in CD34+cell-humanized mice- DSS-induced
Chronic colitis in mice- DSS + anti-CTLA4 |Repeated DSS cycles
Mild colitis in mice – anti-CD40
Spontaneous colitis in mice – IL-10-/-model
Oncodesign Services also offers development of custom-made models in order to adapt to your scientific needs.
Get in touch